Multimedia
Gladiators 2016-2017 Media Partners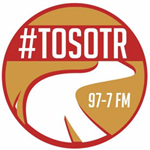 The Other Side of the River - 97.7 FM

The Atlanta Gladiators have teamed up with Cox Media and The Other Side of the River 97.7 FM for the 2017-2018 season as the radio broadcast home of Gladiators hockey. TOSOTR became the flagship station for all Gladiators broadcasts at the start of the 15-16 season, offering a larger presence in the Metro Atlanta area, and a home on the FM dial. All 72 games will be broadcasted by "Voice of the Gladiators" Chris Treft.
---
ECHL.tv


The ECHL, along with the Gladiators, present ECHL.TV, powered by NeuLion, for the 2016-2017 season. The online streaming platform gives ECHL fans more access and options than ever before and games can be viewed on PC, iPhone and iPad all through a single user account. Eight packages are available for fans to purchase on ECHL.TV. In addition to single live and archived games, fans will have the ability to purchase five or 10-game packages, allowing them to pre-pay in advance and select the games they want to watch during the season.
Visit ECHL.tv for more information.
---

News 95-5 and AM 750 WSB
The Atlanta Gladiators have partnered again with News 95-5 and AM 750 WSB for another season of exciting Gladiators hockey. Atlanta's news, weather, and traffic station delivers the top local breaking news, dependable traffic updates every six minutes mornings, and accurate and dependable Kirk Mellish weather. Join the Gladiators for their annual "Clark Howard Night" on Saturday, Feburary 6th.